PARTNERS
The story in brief
The partners of e+i have a long history that started many years ago in Rome, Italy.
Eva, a native of Rome with British-Spanish nationality and Ian a native of the Philippines with American-French background, met while in high school in Italy. Spending most weekends sketching in piazza's and churches these early years had a deep impact on both partners and helped to forge a shared passion for design and architecture that Eva and Ian bring to every project the joint practice undertakes. e+i not only stands for the first names of the partners but was originally intended to address the reach of the practice interested in notions of exteriority and interiority.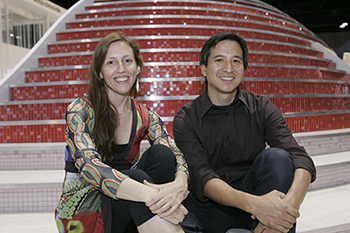 Eva Perez de Vega is an architect, designer and educator. She holds a Masters and Bachelors degree in Architecture and Civil Engineering from the University of Madrid, School of Advanced Architecture (ETSAM), a Masters in Philosophy from the New School For Social Research, and currently in the PhD in Philosophy program. Prior to establishing e+i studio, Eva was lead design architect at Reiser + Umemoto, RUR Architecture PC. She teaches architecture and design at Parsons the New School For Design since 2004, and is professor of architecture Pratt Institute School of Architecture. She has previously taught at the University of Pennsylvania and Princeton School of Architecture. Originally from Rome, Italy, she has been in New York City since 2001.
Ian Gordonis a licensed architect in New York State with experience working in New York, North Carolina, and Madrid, Spain. Prior to e+i studio, Ian worked as an architect for Studio Daniel Libeskind. He received his Master's Degree in Advanced Architectural Design (AAD) and graduated with honors from Columbia University. He holds a Bachelors degree from NC State University and has a background in Fine Arts. He has taught at Columbia GSAPP and currently teaches at Parsons The New School For Design. Originally from Manilla, Philippines, Ian has travelled significantly before settling in New York City.
CLIENTS
Ceramics of Italy
Evolve Physical Therapy
Chinatown Partnership and BID
Flatiron 23rd St Partnership and BID
Van Alen Institute
Confindustria Ceramica
Italian Trade Commission
Novita Communications
Human Kinetics Movement Arts
Nu Dance Theater
White Space Gallery
The Lab Gallery NYC
New York Foundation For the Arts
Lower Manhattan Cultural Council
Contigo Ventures/ Simple Credit Corp
[+ private clients]
ASSISTANTS/ INTERNS
Susana Chinchilla
Agrima Gupta
Abhishek Thakkar
Sidhant Seth
Yotam Ben Hur
Hakan Westergren
Andreas Fernandez
Jonathon Koewler
Erika Hrivikova
Aura Phongsirivech
Yuki Nakayama
Patricia Niclos
Florencia Bertorello
Yeshaya Shor
Aviva Novick
Carina Arvizu
Flavia Bertorello
Lloyd Norwood
Jennifer Riggi